BILLYWHITEMUSIC.COM
Pianist/Keyboardist

Billy White is a pianist and keyboardist to bridge the 20th and 21st centuries: decorated in jazz, with a list of awards, internationally respected teachers, top-flight collaborators, and positive reviews in Down Beat magazine for his original compositions, he is also a sought-after by rising electronica artists, an in-demand backup musician for Grammy- winning and -nominated R&B artists, and an in-demand pianist, organist and Musical Director in the world of gospel. His flexibility and musicianship make him an invaluable asset to any ensemble, and an extremely sensitive and supportive accompanist for vocalists. Interested groups/performers should email
billywhitemusic@gmail.com
.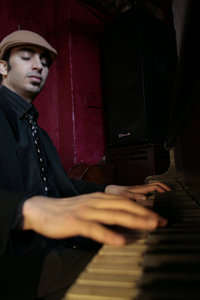 Resume/Highlights
Sideman
Jazz: Marcus Shelby, Cathy Harley, Bashir Shakur, California Honeydrops, Paula West, Bilal,
R&B/Soul: Bilal (Grammy nominee), Maiysha (Grammy nominee)
Gospel : Norman Whitfield III, James Hall
Leader (jazz)
Worked with Dayna Stephens, Ambrose Akinmusire, Kenny Brooks, Obed Calvaire, Jaz Sawyer, Yunior Terry, Steve Belvilus, Obed Calvaire, Linda Oh, Joe Saunders, Rodney Green
Studio Work
"Orange Factory-Sunrise fron the East"/"Hot Shit" by producer Scott Jacoby (Grammy Winner),
"Speakin' Nuyorican/Fumando" by Captain Planet (featured frequently on several television shows,
including Keeping up with the Kardashians),
"The California Honeydrops" self-titled debut album,
"All my Love ft. Dwight Trible" by Teeko
"Redo" by Grace Woods & Lit by Lightning.
"[untitled]" Pablo Ygal, Plug Research records
Musical Theater
"Finding Harlem" - With Ano Okera (Rent)

Discography (leader)
2010 - "First Things First". "One of the year's most impressive debuts", SF Chronicle. "Impressive", Down Beat magazine. Click here to read full reviews.
Past Touring
2004 - Heezbus (Universal France)- France
2008 - Wallace Gary & Blackout - Morocco
Dance Accompanying
2007-2009 - accompanist for the Martha Graham School of Dance, Mark Morris at BAM, and Peridance
2009-10, 2011-12 - accompanist at Long Island University with Graham company dancer Whitney V.
Hunter.
Gospel
2010-present - Musical Director, New Journey Baptist Church (formerly St. John's Baptist), Brooklyn, NY.
Formal Education
Classical: Juliet MacComas, Bill Wellborn.
Jazz: Jim Rowsey, Mark Levine, Don Haas, Tom Ranier, Kenny Burrell, Roberto Miranda, Barry
Harris, Steve Coleman, Luis Perdomo
Arranging: Gordon Fels, Llew Matthews, Gerald Wilson
Latin: Rebecca Mauleon ,Bobby Rodriguez

B.A., Ethnomusicology, 2005, University of California, Los Angeles (UCLA),.
Awards and Scholarships:
1996, 1997, 1998, 2000 - Command Performance, California Music Educators Association,
UCLA (full scholarship):
2000, 2001, 2002, 2003 and 2005
David A. Abell piano scholarship,
Duke Ellington Jazz Award
Martin Feldman Award